YouTube to OGG converters have become popular on the internet for people to save their favorite YouTube videos.
The OGG format is ideal as its rich in quality and minimizes the file size. A perfect combination of storing away a large number of videos without running out of disk space.
OGG file format is unique as it stores data including video, text, metadata, and audio.
Today, we present 12 tools to convert your YouTube videos into OGG files.
CatchVideo.net is perfect to download videos from not just YouTube but Daily Motion, Facebook, Vimeo, Instagram, and others.
With a browser-friendly extension for Google Chrome and Mozilla Firefox, it makes capturing videos on the go a hassle-free experience.
Simply 'Copy' the video URL and paste it into the field. And download the file into mp3, OGG, FLAC, or aac formats.
YT Converter is as straightforward as it gets. Add your preferred YouTube link to the field and download the OGG file.
But wait. There's more.
YouTubeConvert also supports editing and trimming videos to your preferred length. The tool helps to cut videos from up to 45 minutes in length to your preferred time frame.
Other supported file formats for conversions include AVI, MP4, WMV, and WEBM for video and MP3, WAV, and M4A for audio.
Let's say you want a tool that converts a YouTube video according to bitrate quality.
Anything2MP3 is the ideal tool to enhance bitrate quality in the following range – 96K, 128K, 192K, 320K.
Bitrate quality directly corresponds to the audio quality. The higher the bitrate, the better your audio sounds.
The tool supports AAC, WMA, WMA, and of course, OGG file formats.
Online Video Converter offers support for over 15 platforms including video-sharing websites.
It's compatible with all the popular web browsers like Chrome, Firefox, Safari, and Opera.
There are no limits to converting and downloading your favorite videos.
The simple interface makes it rather easy to paste your links and download your files fast.
Most popular file formats like AAC, WAV, OGG, FLAC, 3GP, FLV, AVI, and MP3 are supported.
Version 3.0 also comes with a Video recorder to record videos on the move.
Unlike the other tools on this list, Convertio doesn't come with a usual URL insert field. That's because it's a cloud-based converter.
With Google Drive and Dropbox support, you can convert stored videos to your preferred output in a matter of minutes.
It supports over 300 types of file formats. Check out their full list of file types here.
Every file is stored on your preferred cloud device and nothing is stored on your device.
Convertio also provides editing functions to trim and crop videos along with features that include setting codec, channels, aspect ratio, and base quality.
A simple interface to boot, Loader.to offers a straightforward download experience.
Choose to convert one file at a time or take advantage of its bulk conversion experience. The batch download feature enables up to 20 video conversions at a time.
A unique feature of this tool is its subtitle-friendly feature. Using the Google Translator function, many of the videos get an auto-generated caption added to them.
Loader.to is ideal for any user searching for offline playback of their favorite online videos.
Save The Video is another multi-platform website that supports Vimeo, TikTok, Instagram, Facebook, Dailymotion, and Twitter. For a full list of supported platforms, click here.
If you already noticed, YouTube isn't supported on the platform. However, the other tools here do the job that this one can't. While this tool supports a range of other popular social media websites.
The tool comes with an editing function to cut and trim files. Perfect to choose when to start your video and when to end it.
The tool also comes with 4K/1080p support for stunning video quality after conversion.
While Ontiva isn't particularly great for OGG files, it still gets the job done.
As a free tool, its shining moment is in converting YouTube videos to WAV and MP3 files in a flawless manner.
The Ontiva converter tool also allows the user to trim, crop, and cut videos to their liking. With up to 4GB of maximum size available for download.
For most users, the free version is ideal standard use. However, they offer paid plans for bulk video conversions and playlist conversions to help save time.
Looking for a video converter that supports Windows and Mac?
We got you covered with VideoProc!
Unlike the other basic converters, VideoProc packs some serious horsepower for your video conversion needs.
Using a level-3 Hardware Acceleration feature, convert videos into 4K and even 8K video quality.
VideoProc isn't just for OGG file conversions, it's ideal for converting your GoPro and DSLR/Mirrorless devices.
From iPhone support to Android, the tool has some of the best editing functions available on this list.
While some of the features are available to use for free, high-quality videos come at a price.
It supports Windows 11 and macOS 12.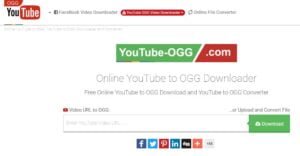 Down to its name, YouTube-OGG is everything an OGG fan needs to convert their YouTube videos.
Along with YouTube, it supports over 175 websites for video conversion.
Popular video and audio formats include MP3, MP4, AAC, AVI, WAV, WEBM, OGG, and even the fabled 3GP file format.
If we had to pick one tool from the list, it would have to be this one for its sheer convenience and universal support.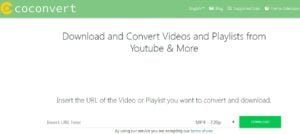 If native resolutions of 1440p and 4K YouTube videos is your fix, CoConvert is your stop.
The best part is it's free and completely online.
The interface is user-friendly and like many of the tools here, it's down to a 'copy and paste' model and your file is ready.
CoConvert features a playlist-friendly conversion that allows for your saved playlists to automatically convert and download to your device. Up to 100 videos can be downloaded with a click.
File support is generous and includes most of the popular audio and video types.
This has nothing to do with Microsoft Office, even though the name sounds official.
Office-Converter has a plethora of functions in its interface to allow for fast downloads without scrolling too much.
Now, this tool is a mixed bag of goodies, apart from the usual conversion of video types such as YouTube to OGG, it packs a wallop.
It comes with a Document converter, QR Code generator, Translator, and much more.
The website is ideal for those looking for a range of converters that are available on one website.
YouTube to OGG Converter FAQ
What does OGG stand for? When did it start?
OGG was derived from the term – "ogging", taken from the video game Netrek. It was developed in 2003, by Xiph.Org Foundation. It was mainly used as a container for Vorbis, FLAC, Dirac, Speex, Theora, and Opus among others. OGG is a free and open format.
How do I Convert a YouTube video into an OGG file?
Easy. Simply Copy+Paste the YouTube URL that needs converting into the given field. Then hit the 'Convert' button to begin the process. Download the file once it's ready.
Are the following video/audio converters safe to use?
Yes. Every website has been personally verified by us and is completely safe to convert and download.
Do any of the above online applications store user information?
User privacy is taken seriously. None of the above applications store any user information or user browsing data at the current time.
However, it's a good idea to make sure to read individual website/cookie information for privacy-related information.
Why should I download YouTube videos when I can save them on the YouTube playlist?
Most YouTube videos are taken down from time to time. From changing policies to copyright infringement, the reasons vary.
It's always smart to save your favorite YouTube videos on disk and ensure you always have access to them.
Also, sharing videos on various platforms becomes easy when you have the file downloaded in your preferred format.
Which is better – OGG or MP3?
MP3 is a popular audio format. The biggest difference between the two file formats is the quality.
OGG retains the rich quality and is much smaller in file size compared to MP3. However, MP3 is supported by various media players compared to OGG.
Conclusion
OGG files are popularly used to retain the maximum value of a file. Using minimal file storage is another perk of using OGG files.
The next time you find a YouTube video that you love, don't just bookmark it or save it to your video playlist. Convert them to an OGG file and save them for good.
We hope this list of free YouTube to OGG converters was good enough to download all your favorite videos.
Recommended Reading List!