Pay per lead is an exciting way to earn via affiliate programs.
For instance, they don't require a sale for you to receive a commission.
Do you see the earning potential here?
Affiliate programs are synonymous with sales. Precisely why PPL programs are a breath of fresh air in the affiliate industry.
Today we focus on the best pay-per-lead programs that pay top dollar.
What is a Pay Per Lead Affiliate Program?
A pay-per-lead program is also known as a CPA (cost per action). Every time you take an action such as –
Sign a contact form

Use the trial version of a program

Install a plugin or software

Create an account

Enter an email
You get paid. It's that simple.

The Top Pay Per Lead Affiliate Programs
Notice how PPL models don't require a sale to ensure a payout. These are an excellent revenue stream for new affiliate marketers.
The obvious thought is – surely, PPL programs pay trash.
Not quite, some PPL programs pay as high as $10 per action.
We can't wait to unveil the list.
1. Semrush ($10 per lead)
The SEMrush affiliate program is a goose that lays golden eggs.
You make $10 for every new lead that registers to its trial. No sales required whatsoever!
And if the user subscribes to SEMRush, there's an additional $200 for you.
If the user registers, you receive a flat $0.01 per registration.
It's a complete win-win.
2. Grammarly ($0.2 per registration)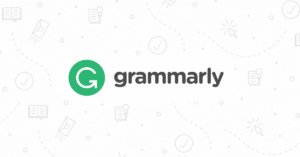 Firstly, Grammarly is a blogger's best friend. Recommending it is as easy as recommending pizza to your hungry friend.
For every signup, you receive $0.20 as registration commission. While, at first, this looks small, remember Grammarly is free to use.
Let's say you get 200 people to register in a day. That's $40 of profit.
2000 people in a month? now we're talking $400.
Finally, 20,000 people in a year. That's, $4000 of pure profit!
This tiny sum adds up to a fortune over time. Grammarly premium also pays $20 for every sale, so it's a double victory.

3. FreshBooks (Up to $10 per signup)

With the FreshBooks affiliate program, you earn up to $10. Paid after every user that signs up to its trial.
For every subscriber, you get $200. Not bad for a day's work, is it?
Now FreshBooks offers a cookie period of 120-days. Generous!
The affiliate program is hosted on the ShareASale affiliate network.
4. Ginger ($0.5 per registration)

Ginger is similar to Grammarly. As in, both are AI-powered writing assistants. Except, Ginger is the lesser-known sibling.
Which means, more profit to be made.
Ginger gives a generous $0.50 per sign-up. You heard right! For every 2 signups, you make a $1.
Do the math and you'll see that this lucrative program is a dream for affiliate marketers to promote.
If you make a sale, you receive a flat $20.
Refer your friends and family to use Ginger for their emails without spending a dime. In the process, make a killing.
5. Similarweb ($10 per lead and $50 per trial registration)

By itself, Similarweb offers a complete analysis of monthly visitors, referral traffic, and innovative features about a website.
However, the affiliate program is a dream come true.
First, you receive $10 for every lead you send their way. Next, if the user signs up for their trial, your commission upgrades to $50.
Fair warning, their affiliate program has a high decline rate. But if you're lucky, you get access to a once-in-a-lifetime affiliate program.
Similarweb is hosted on ShareASale.

Surveys! You either hate or love them.
In this instance, we guarantee that you'll fall in love with them.
Especially when they pay $15 per lead.
No, we are not talking about collecting gift cards after taking a survey.
We mean bringing people to take surveys while taking home cold hard cash.
Again, like many other affiliate programs in this list, ShareASale hosts it.
We admit ShareASale has plenty of PPL affiliate programs.
It even has a filter that lets you show results by "Pay Per Leads". Refer to the image below.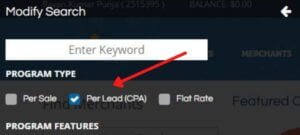 Once you've filtered the results, every program that pays per lead is shown. There are hundreds of programs per niche that are available to promote.
The only drawback is getting a ShareASale account verified. With some countries being auto-rejected, this proves to be an issue.
Shortly, we'll create a guide with tips on how to get a ShareASale account verified.
Until then stay tuned.
Pay-Per-Lead versus Pay-Per-Sale
The obvious difference between the two is the commission rates. PPS pays higher than PPL.
However, making a sale requires more effort than generating a lead.
Asking a friend or a sibling to check out new software at no cost is second nature. Getting paid to recommend a free trial is icing on the cake.
We recommend starting with PPL affiliate programs for new affiliate marketers. Once you've made a tidy sum, venture into high-ticket programs that pay a lump sum.
Another advantage is that a majority of PPL programs offer an incentive for a sale. That's like hitting two birds with one stone.
For instance, let's say you recommend Ginger to 20 friends on social media. That's 20 signups for you, which is an easy $10 in a day.
But wait, 2 of your friends decide to buy the premium version of Ginger. You've now made $40 and earned twice from the same program.
That's a total of $50 for promoting one product.
Conclusion
We intend to update this list with new PPL affiliate products as they become available.
In the meantime, we recommend promoting these programs as a new affiliate marketer.
For a grand list of affiliate programs that pay per sale, we recommend our 35 high-paying affiliate programs guide.
Remember, that success for affiliate marketers comes with trial and error. Don't be afraid to change your strategy and get acquainted with the basics.
Affiliate Disclosure: To ensure we run Schoracle ad-free, this blog contains affiliate links. We may earn a small commission for purchases that you make. Read our Affiliate Disclaimer for more details.